Museum Postcard
The Rancho Bernardo Historical Society is a non-profit organization, dedicated to preserving the local history and increasing public awareness through programs and outreach. As a gift to you when you visit, this "historic" postcard is perfect for everyday postal use.
Product Details
Photo of the Rancho Bernardo Historical Society's museum.
Product Dimensions: 6.0 x 4.0 inches. Feel free to send or save.
Price: $0.00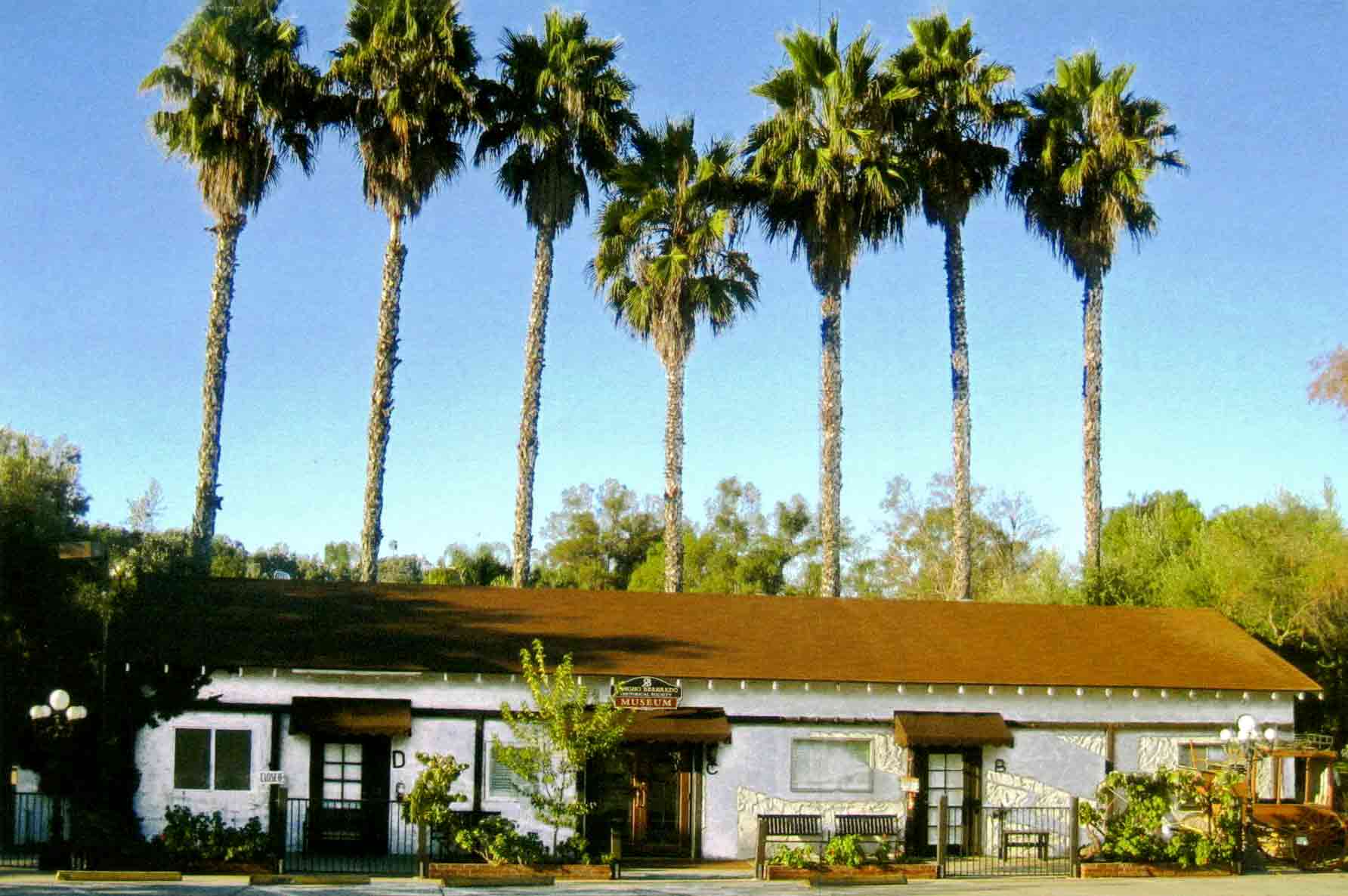 Rancho Bernardo Memories
The Rancho Bernardo Memories book is a collection of articles written by early residents of Rancho Bernardo along with a selection of oral history segments from the collection of the Rancho Bernardo Historical Society Museum. From tidbits about parties at the Rancho Bernardo Inn to stories about ranch life before development, this volume covers a variety of memories about life in Rancho Bernardo.
Soft cover, 77 pages
ISBN none
Price: $10.00 (tax included)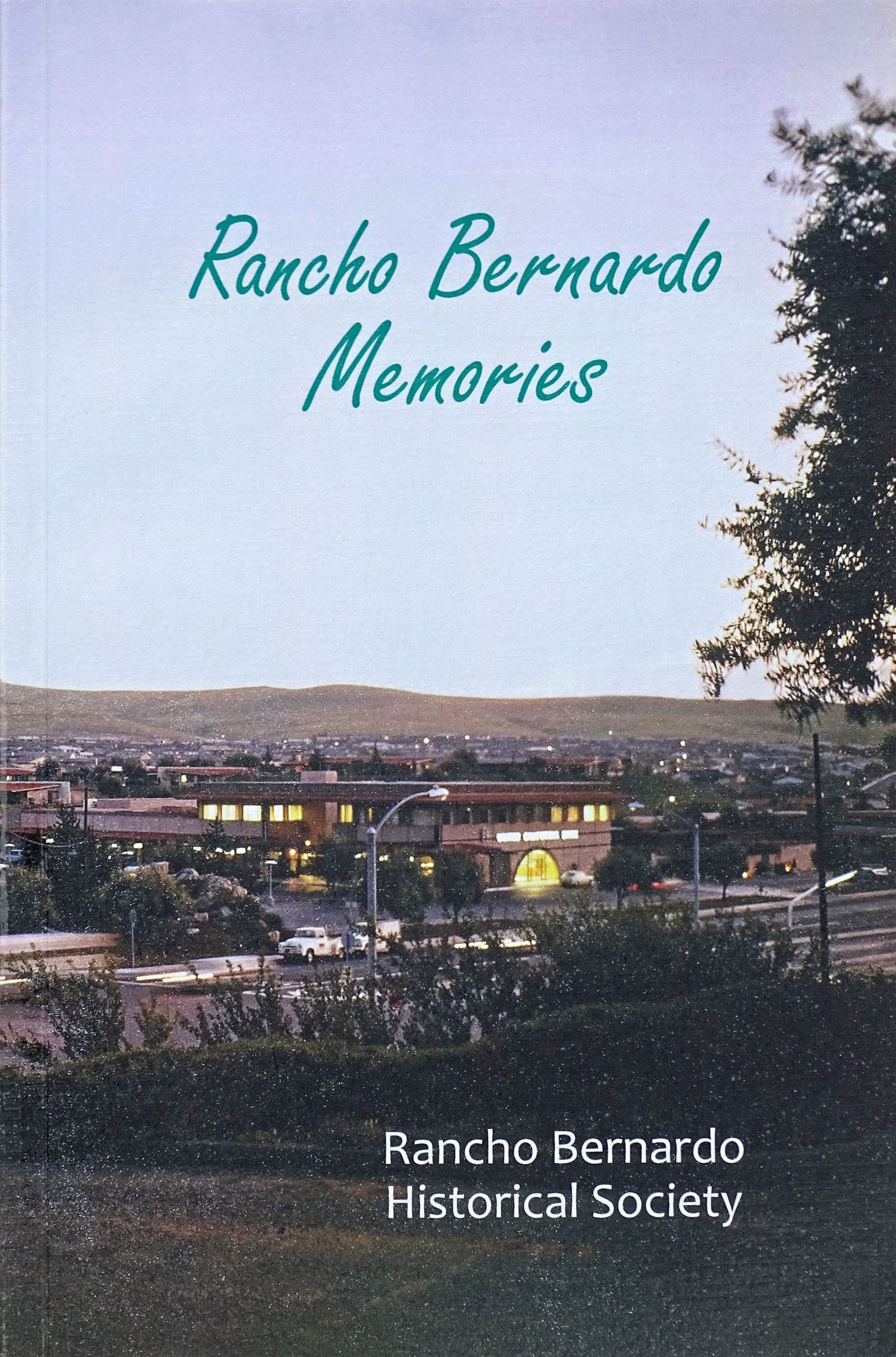 Valleys of Dreams
In Valleys of Dreams, Vincent Nicholas Rossi continues his exploration of San Diego County history.  He offers stories of people, places and events that shaped and reshaped North County from a farming region where livestock outnumbered people to a burgeoning urbanized landscape of homes and shopping centers.
Soft cover, 162 pages, fully illustrated.
ISBN 978-0-9822671-3-4
Price: $20.00 (tax included)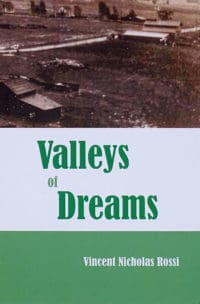 Lost Town of Bernardo
This book is the first in a series about "lost towns in San Diego County." These places once bustled with life. Each town boasted its own general store, blacksmith shop, and school. Many were stagecoach and railroad stops. Each was a market town for farmers and ranchers in far-flung valleys where livestock often outnumbered actual residents. These were the "lost ancestors" of today's San Diego County cities and neighborhoods. Their residents built the foundation on which our modern communities could grow.
Soft cover, 35 pages, fully illustrated.
ISBN 978-0-9822671-4-1
Price: $10.00 (tax included)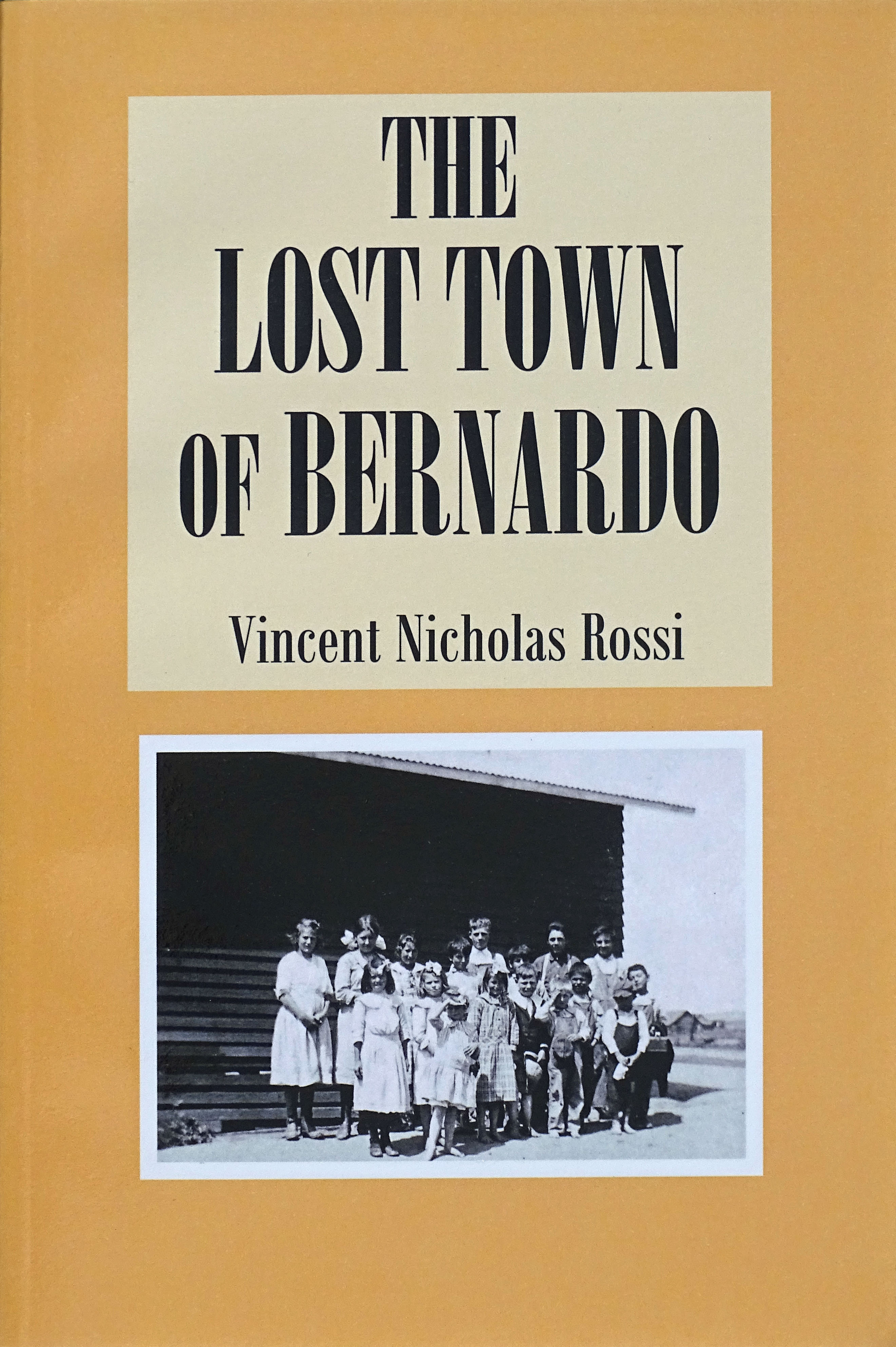 Firestorm 2007 Paperback Book

Inferno: The Wildfires of 2007 by Karin Winner (Editor)
When smoke and ash began to fill the skies in late October 2007, many of us refused to believe that it could happen again – deadly firestorms like those that swept through San Diego County four years earlier. We saw our region come together as a community, individuals helping one another through the immediate disaster.
Product Details
Paperback: 96 pages
Publisher: The San Diego Union Tribune, 2007
Language: English
ASIN: B00LVE0NME
Product Dimensions: 11 x 8.5 x 0.2 inches
$20.00 each (tax included)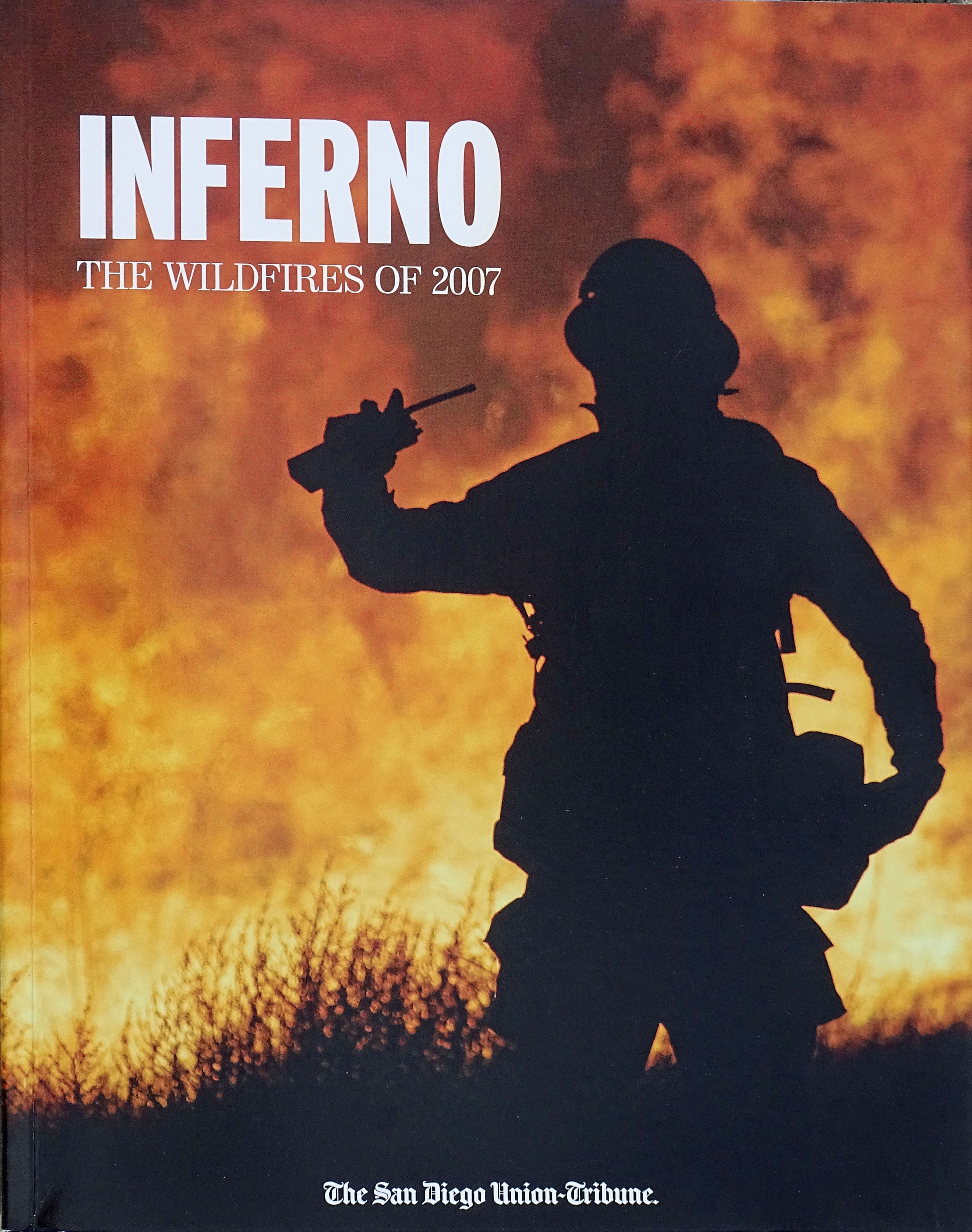 Automotive License Plate Frame
Show off your support for the Rancho Bernardo Historical Society with one of our customized license plate frames! These frames are made of a durable and light plastic, and have the "Historic Rancho Bernardo" design screen printed directly onto them.

Product Details
Made of durable and light plastic. White silver frame color. UV and water-resistant design printed on front.
Standard size will fit all North American license plates. Product Dimensions: 12.3 x 6.3 inches
Price: $2.00 each or 3 for $5.00 (tax included)
Rancho Bernardo Historical Society
Mud Wagon T- Shirt
Designed to commemorate the completion of the RB Historical Society's "Mud Wagon". Washed for softness, this T-shirt is made in Haiti of 100% "Ultra Cotton". Product Details Color:    Sand                  Size:     S    M    L    XL
Our T-shirts come in Classic Fit (comfortable and roomy). Size large has a 29½" body length (back of the neck to base). Crew neckline. Short sleeves. 100% cotton. Machine washable. Silk-screened logo at the left chest. Silk-screened artist's drawing of our Mud Wagon on back.
Price: $22.00 each (tax included)
Rancho Bernardo Historical Society Tote Bag
A woven tote bag featuring dual shoulder straps and an embroidered Rancho Bernardo Historical Society logo on the front. These bags are convenient for everyday shopping, carrying groceries, travel and trips to the beach.
Product Details
Imported.  Made in China. Two shoulder straps. Color: Green
Product Dimensions:
Height: 13 inches, Width: 18 inches, Depth: 8 inches (when filled)
Price: $15.00 each (tax included)
Rancho Bernardo Historical Society Visor
Protect your face on those bright, sunny days with our custom made Rancho Bernardo Historical Society Visor and embroidered RB Historical Society logo. Great for outdoor activities. One size fits most.
Brand:   Magic Headwear   Color:   Sand   ; Visor Size:   8.5 x 3.5 inches
Product Details
Velcro adjustable headband provides custom fit. Made in Vietnam. Flat front panel. Hand wash, air dry.
Price: $8.00 each (tax included)
Webb Lake Poster
Morning Visitors by Stanilaus Sowinski
This poster print of the oil painting entitled "Morning Visitors" by Rancho Bernardo artist Stanilaus Sowinski captures the beauty and serenity of Rancho Bernardo's treasured Webb Lake and Park. 27″x 33″ prints are available for sale with the proceeds benefiting the Rancho Bernardo Historical Society's mission to collect and preserve area history. Print includes a 3/16″ white border.
Available Sizes:
   Small 23.2 x 15.5 inches
   Medium 33.1 x 22.0 inches
   Large 46.9 x 31.2 inches
Price: $5.00 each (tax included)